< Back
Follow these tips to keep your summer bite-free and healthy despite the uptick in mosquito-borne diseases.
Summer is a season of hot weather, pool parties and, unfortunately, mosquitoes and their bites. Since the number of people getting diseases from mosquitoes, ticks and flea bites has more than tripled in the U.S. in recent years, according to the Centers for Disease Control and Prevention, it's a very good idea to take precautions. Here are the most effective ways to get rid of mosquitoes and keep them away from your yard.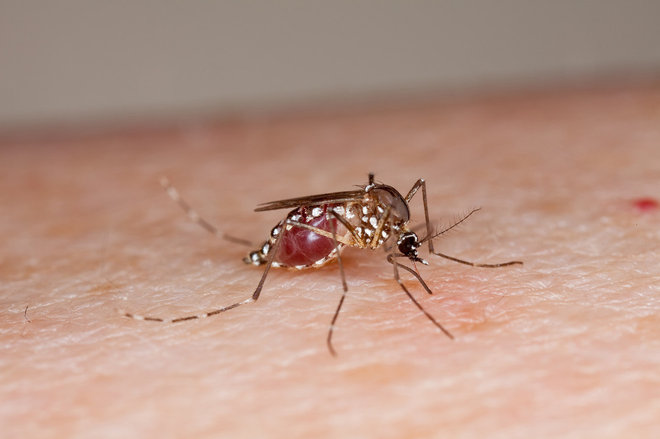 A female mosquito (Aedes aegypti) has filled up on human blood. U.S. Department of Agriculture photo by Stephen Ausmus
How to Get Rid of Mosquitoes

1. Eliminate standing water. Mosquitoes need stagnant water to breed. It doesn't take much stagnant water to support a mosquito colony. "Even a little soda cap can breed mosquitoes," says Jody Gangloff-Kaufmann, entomologist at the New York State Integrated Pest Management Program at Cornell University. So your first move, whether you're trying to get rid of mosquitoes or prevent them from joining you in the first place, is to eliminate any standing water.

This means that if you have a water feature as part of your garden or yard design, then it should have a pump or recirculating system, or be changed out frequently. Entomologist Michael Bentley of the National Pest Management Association in Fairfax, Virginia, advises changing standing water, like that found in a bird bath, twice per week. Since mosquitoes need about eight days to breed, changing water at that pace should prevent them from populating. And the birds will appreciate the fresh water, too.

Keep in mind that even a pump can be risky as a prevention method. If you're traveling for 10 days and the pump goes out, that's enough time for you to return to some unwelcome new backyard inhabitants.

2. Look for hidden water sources. Common culprits where stagnant water may collect include flower pots and saucers, sand buckets, tire swings, children's toys, grill covers, garbage can lids and baby pools. But there are many other places where water may lurk undetected — gutters, tarps, metal pieces of furniture, even in a fence post where the cap has come off. Gangloff-Kaufmann once saw a hammock stand that collected water inside the rods of the frame the hammock hung from. "I went out with a crew last summer and we went to people's homes to look for standing water and people said, 'Oh, I don't have standing water.' And almost all did," Gangloff-Kaufmann says.

Bromeliad plants can collect water in the center portion of the plant that can become a mosquito breeding ground. "Daytime-biting mosquitoes, the ones that spread Zika, will look for plants like that," Bentley says.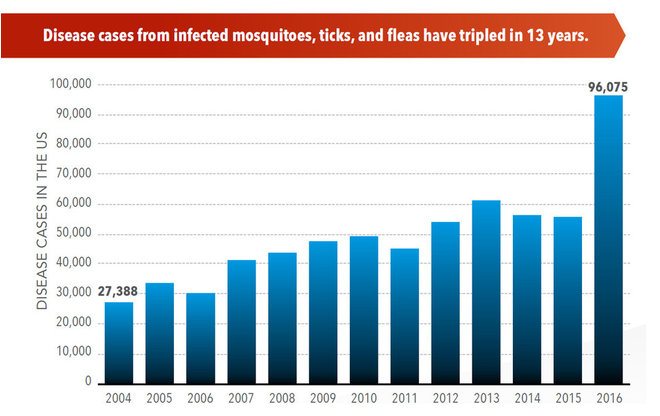 Graph from the CDC


How to Protect Yourself From Mosquitoes
Different types of mosquitoes spread different diseases and bite at different times of the day. Day-biters like
Aedes aegypti
and
Aedes albopictus
carry Chikungunya, Dengue and Zika, and they bite primarily in the day, according to the CDC, though they can also bite at night. The
Culex
mosquito species spreads West Nile virus and bites from evening to morning. Most types of mosquitoes are most active at dawn and dusk. Be sure to take the following precautions this summer.
1. Make sure your home is sealed.
Be sure that screens on your windows are in good working order, and that your screen doors close securely. Patch or replace screens that have holes or don't fit windows properly. The CDC advises people to sleep under a mosquito bed net if air conditioned or screened rooms are not available, or if sleeping outdoors.
2. Cover up or use repellent.
When you do go outside, mosquito experts recommend that you wear long pants, long-sleeved tops and closed-toed shoes. However in the dead heat of summer this advice may not be very realistic. So use insect repellent. The CDC recommends using an
EPA-registered product
that contains one of these active ingredients: DEET, picaridin, oil of lemon eucalyptus, IR3535, para-menthane-diol (PMD), or 2-undecanone. The
Environmental Protection Agency's mosquito repellent product finder website
will tell you which products protect against mosquitoes and for how many hours. You should also follow the product label's instructions for applying repellent on both yourself and children. Read
more tips from the CDC
here.
3. Use permethrin on clothing.
Permethrin is a chemical insecticide.
You can purchase permethrin-treated clothing or treat items like boots, pants, socks and tents with permethrin spray. The CDC warns that you should not apply it directly to skin. It can also be harmful to pets.
What Natural Things Keep Mosquitoes Away?
Beyond removing standing water from your property, you can try a number of other techniques to prevent mosquitoes from biting you, though none are a perfect solution.
Fans. Because mosquitoes are not strong flyers, the air stream emitted by a fan is like a gale force wind to them — they can't fly in the face of it. If you sit directly in the breeze, the bugs shouldn't be able to reach you.
Bat houses. "Bats definitely do eat mosquitoes," Bentley says. Adding bat houses to your property can be a potential secondary solution, though Bentley would never recommend them as the only solution.
Citronella. Citronella is an EPA-registered mosquito repellent, but citronella candles and torches have questionable efficacy. That's because a breeze can blow away their effects, according to multiple mosquito experts we spoke with. Bottom line: "If you're not sitting directly in the plume it's not going to ward off mosquitoes," Gangloff-Kaufmann says.
Cutting back vegetation. Reducing shade in a garden or backyard is one strategy to ward off day-biting mosquitoes that carry Zika, because these day-biters don't like being in direct sun. Or you can simply use this knowledge to be strategic about what part of your yard you hang out in. "If you have a hot, sunny spot, you can go there and not get bitten," Gangloff-Kaufmann says.
What Kills Mosquitoes?
Mosquito traps. Mosquito traps kill mosquitoes. But there is a challenge in using them: The traps work by first attracting mosquitoes, so they may effectively bring more mosquitoes to your yard than would otherwise visit. That's why Bentley says there's this saying in the pest management world: "Your best mosquito solution is your neighbor's mosquito trap."
Insecticide sprays. The EPA registers pesticides and sets the restrictions for residential use. But do keep in mind that spraying any chemical poses some risks. "You should never, ever apply pesticides unless there is a distinct need to do so," says Joe Conlon, a medical entomologist and technical advisor for the American Mosquito Control Association. And if you do go this route, it's a good idea to hire a certified professional trained on how to properly apply mosquito insecticide in a residential setting. Sprays can last four weeks, says Bentley, of the National Pest Management Association.
For more information on pesticides, visit the
EPA website
or the
National Pesticide Information Center
at Oregon State University.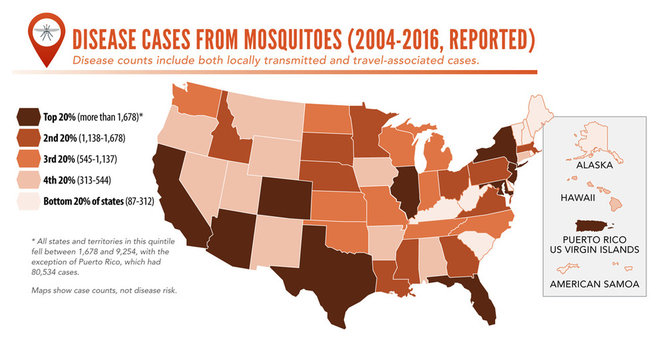 Graph from the CDC. Click here to enlarge it.
Who to Call for Help With Mosquitoes
If you're dealing with a mosquito infestation, want to know how to prevent one or simply want to find out what secondary measures would be worth trying in your area, contact the Florida Mosquito Control District at 305-292-7190 or questions@keysmosquito.org.